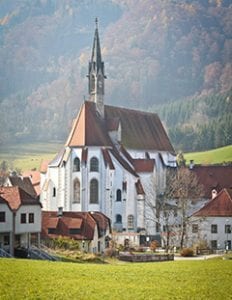 COVID-19 Coronavirus Update, March 11, 2020
Dear Pilgrims of the Austrian Experience (Parents Week),
Franciscan University has been closely monitoring the spread of coronavirus COVID-19 both here in the United States and abroad. Over the past several days, many European countries, including Austria, have increased their restrictions to help contain the disease. This includes the closure of schools, increased border checks, cancelation all large outdoor gatherings, and restriction of indoor events to a maximum of 100 persons. Therefore, many museum visits and tours that were scheduled for the Austrian Experience Week have unfortunately been canceled.
In light of these developments and mindful of the efforts taken by the Austrian government, we believe it is in the best interests of all to cancel the Austrian Experience. We apologize for any inconvenience.
All money paid to Franciscan University will be refunded. If you used Uniglobe to book your flight, please contact them about reimbursement options. If you have any questions, please feel free to contact our office. If you decide to travel to Austria on your own, we recommend that you contact the program director, Mr. Thomas Wolter, for the latest information. He can be reached at [email protected].
We continue to pray for you and your families, and the broader University community.
Sincerely,
Dennis Dankoski
Director of Pilgrimages
Noelle Hiester Crowe
Coordinator of Pilgrimages
More on the University's Response to COVID-19 Coronavirus
_______
Visit our study abroad program in Gaming, Austria, and experience for a week what our students experience for a whole semester!
Join Franciscan University Pilgrimages as we journey through Salzburg, Vienna, the Danube River Valley, and the quaint town of Gaming, the home of our Franciscan University Austrian Study Abroad Program. The breathtaking landscapes, architecture, art, and culture will forge unforgettable experiences, while the deep Catholicity and the glorious churches will lift your spirit.
Highlights of this pilgrimage of faith include:
The Melk Monastery
The Marian shrine at Mariazell
A Mozart concert in Salzburg
Two days in Vienna
And, of course, Gaming and the 14th-century Kartause Maria Thronus Iesu which houses our Austria program.
The land-only cost for this pilgrimage is $1,950
Early Registration discount of $100 off your final invoice if you send in your deposit by January 17, 2020.The land-only cost is per person, based on double occupancy 
Additional $265 per person for a private room in Gaming (four nights) and the last night stay in Vienna after the students leave (five nights total)
Additional $210 per person for Salzburg/Vienna (four nights).Single/Private rooms are available on a limited basis:
$815 per student based on double or triple occupancy (Salzburg/Vienna portion only)
(Early Registration discount of $50 off your final invoice if you send in your deposit by January 17, 2020.)

Please see Terms & Conditions for details on canceling and/or making changes to your reservation.
We will fly into Vienna and travel to Gaming where we will spend four days and four nights. In Gaming, we will take day excursions to the Danube River Valley, the town of Durnstein, the Melk Monastery, Mariazell, and nearby sites of interest. Evenings can be spent in the quaint town of Gaming, visiting with students, meeting the staff of our Austrian program, and touring the historical Kartause.
We then leave Gaming for two nights in Salzburg. Plan to enjoy time exploring Salzburg and a scheduled Mozart dinner and concert. Free time can be spent exploring the Salzburg Fortress, shopping, visiting one of their many historical churches, or simply sitting in an outdoor café! (For an additional fee, your student can come with you to the Salzburg and Vienna portion of our pilgrimage).
Leaving Salzburg, we continue on to Vienna, where we will spend two days and two nights exploring the rich heritage of the Catholic Church and traditions of the Hapsburg dynasty.
Accommodations in Gaming will be at the Hotel Kartause right on the grounds where our students are housed and at Hotel Berghof, a short walk away from Hotel Kartause. Other hotels providing accommodations are the HotelBräu Imlauer in Salzburg, and the Hotel Austrian Europa in the heart of Vienna.
This is a Land Only Package, which means that you are responsible for making the arrangements for your round-trip airfare with our travel designers, Uniglobe, by contacting either Leigh Ball at [email protected] or Doug Bryant at [email protected] or calling them at 614.237.4488. We ask that you schedule your flight to arrive into Vienna before 9:00 a.m. on Sunday, March 29, 2020. This will ensure your seat for the group transportation to the Gaming campus. If your flight arrives at a time that is different than the recommended time, you will be responsible for your own transportation to and from the airport. Please contact the Franciscan University Pilgrimage office if you are unclear of the arrival time into Vienna to ensure group transportation to the Gaming campus. Please schedule your departure flight from Vienna on Monday, April 6th, 2020, for 10 a.m. or later.
Included in the Land Only Package are hotel accommodations for eight nights, eight breakfasts (daily in each hotel), two lunches and three dinners, transportation when out on excursions with the group, bus from the Vienna airport to Gaming and back, admission to the various touring sites, and gratuities for above.
Many parents have enjoyed having their student join us for the Salzburg and Vienna portion of the trip. Please check with them to see if they would like to be a part of this portion with you. Please note, if your student chooses not to join us for the Salzburg and Vienna portion, you will say good-bye to your student on Thursday when we leave for Salzburg. We DO NOT return to Gaming after that.

Triple rooms are available when we go to Salzburg and Vienna, so if your student plans to join you and you would like them to stay in your room, please call the Pilgrimage office. Otherwise students are paired with other students in Salzburg and Vienna.
Due to the scheduled events on campus and the small community there, we ask that if you choose NOT to attend the Parent's Week-Austrian Experience with us, please do not plan a visit to Gaming during the days of October 26- November 4, 2019.
Should you have additional questions, please call the Franciscan University Pilgrimages Office at 800-437-8368 or 740-284-5812, or e-mail us at [email protected].